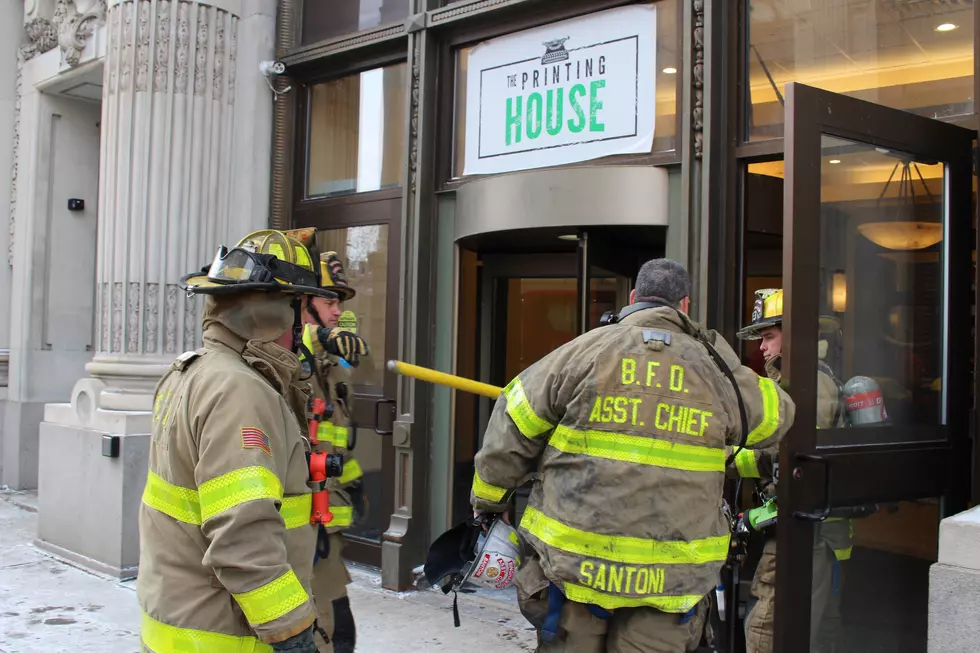 Two-Alarm Fire At Binghamton Printing House Apartments
Photo: Bob Joseph/WNBF News
Binghamton firefighters worked for an hour to extinguish a stubborn blaze in a downtown high-rise building that's home to hundreds of students.
Authorities say the fire at The Printing House apartment tower at 19 Chenango Street was reported at 1:20 p.m. Friday.
Assistant fire chief Stephen Faughnan estimated there were about 10 residents in the complex when the building's alarms sounded.
Faughnan said an alarm in a seventh floor apartment was activated. He said the fire was in a hard-to-reach mechanical room between the sixth and seventh floors.
Firefighters initially worked to attack the blaze from the seventh floor but they were able to get better access by pulling down a section of ceiling on the sixth floor.
Faughnan said firefighters encountered flames and heavy smoke as they battled the fire. He said plywood and floor joists were burned.
Faughnan said the fire may have been smoldering for hours before the alarm sounded.
Several fire trucks filled Chenango Street between Court and Henry streets. At least three ambulances were staged at the scene just north of the roundabout, although no injuries were reported.
Water from a fire hydrant on Chenango Street quickly froze after it hit the ground with the air temperature around five degrees and a wind chill of -20.
The Printing House building opened in August 2016. The apartments occupy the former Press Building, which was constructed in 1904. The structure sustained heavy smoke and water damage due to a fire in the neighboring Midtown Mall site in December 2010.
The apartment complex has rooms to accommodate about 270 people. Representatives of The Printing House were not available to comment on the fire.
Most Binghamton University students are out of town for winter break. The school's classes resume on January 16.
For breaking news and updates on developing stories, follow @BinghamtonNow on Twitter.