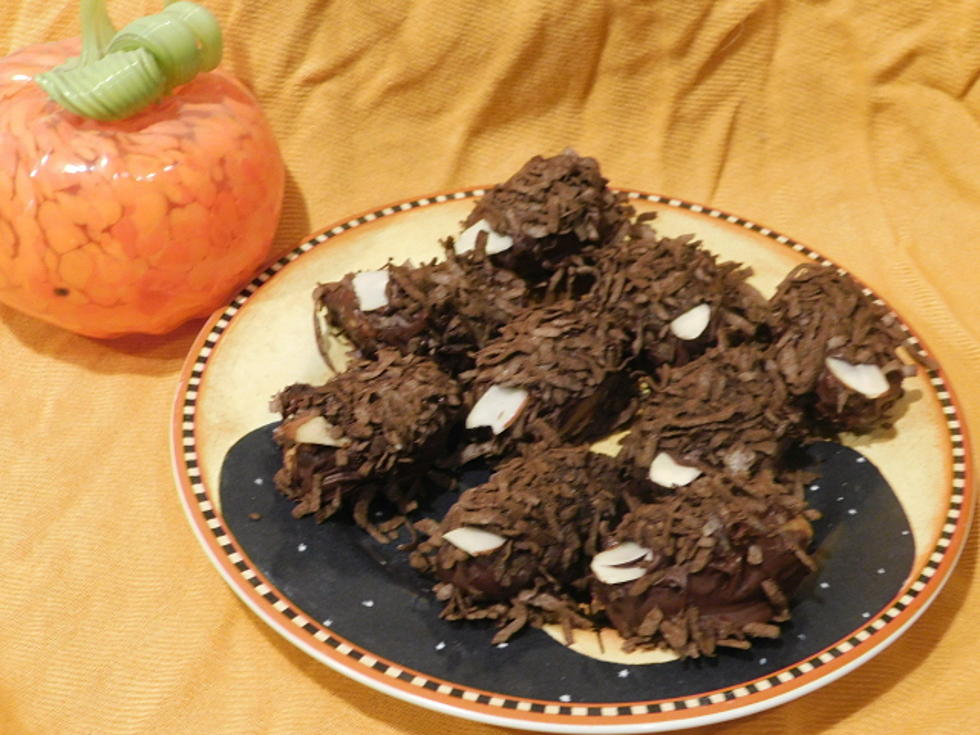 Halloween Almond Butter-Coconut Candy Foodie Friday Sasquatch Toes
Kathy Whyte/ WNBF News
I took an informal poll of coworkers and listeners (okay, I just asked a couple people) what Halloween snack they wanted to see "resurrected" for this week's recipe and Sasquatch Toes won!
It's fun to play with your food, especially around Halloween when you make scary treats that leave Big Foot hoppin'!
Sasquatch Toes Almond Coconut Candy (Prep. time 1hour. Makes about 40 pieces of candy. P.I.T.B. Rating*: 3 out of 10)
2 C. powdered (10X) sugar
1 C. almond butter (stir well before measuring to distribute the oil)
6 Tb. room temperature butter
1/4 tsp. vanilla
½ tsp. salt
½ C shredded, unsweetened coconut (plus 1 C. for topping)
¼ C sweetened condensed milk
2 Tb. cocoa powder
2 bags semi-sweet chocolate chips
¼ C slivered almonds
Combine powdered sugar, butter, almond butter, salt and vanilla in a large bowl using hands to mix well (wearing food service gloves avoids greasy hands).  Work in ½ C. shredded coconut. Add condensed milk and work in with hands until incorporated and mixture forms a firm but soft dough that doesn't crumble.  Add in a little more condensed milk if needed to get the right consistency.  Line baking sheets with wax paper. Measure out dough by the tablespoon and roll into small, oblong logs.  Place on sheets and allow to cool in refrigerator for about a half hour or more.  In a small bowl, toss together remaining shredded coconut and cocoa power to make the "hair" topping.  In a microwave-safe bowl, melt about a cup of chocolate chips in the microwave.  Microwave for about a minute, stir. If not fully melted and smooth, microwave 30 seconds at a time until the chocolate is the right consistency.  Drop the almond centers, one at a time, into the chocolate. Roll with a fork to coat and return to lined cookie sheet.  You can do about a half dozen candies in the chocolate then quickly press generous pinches of coconut on the top before the chocolate sets,  Dip an edge of an almond sliver in chocolate and carefully push under the coconut onto the chocolate layer to adhere the "toenail". Repeat, microwaving no more than 2 C. of chocolate chips at a time as you need more melted chocolate for coating.  Return trays of candies to refrigerator to set.  Once the candies have hardened, they can be kept at room temperature.
For a variation, you can make Yeti toes by using white chocolate and not coloring the coconut with cocoa powder.  Green monster toes could be made with white chocolate colored green with green-tinted coconut.  You could also make the filling with smooth peanut butter instead of almond butter if you prefer.
Top Five Most Popular Halloween Costumes in Upstate New York
Five Fun Ideas for a Social Distanced Halloween