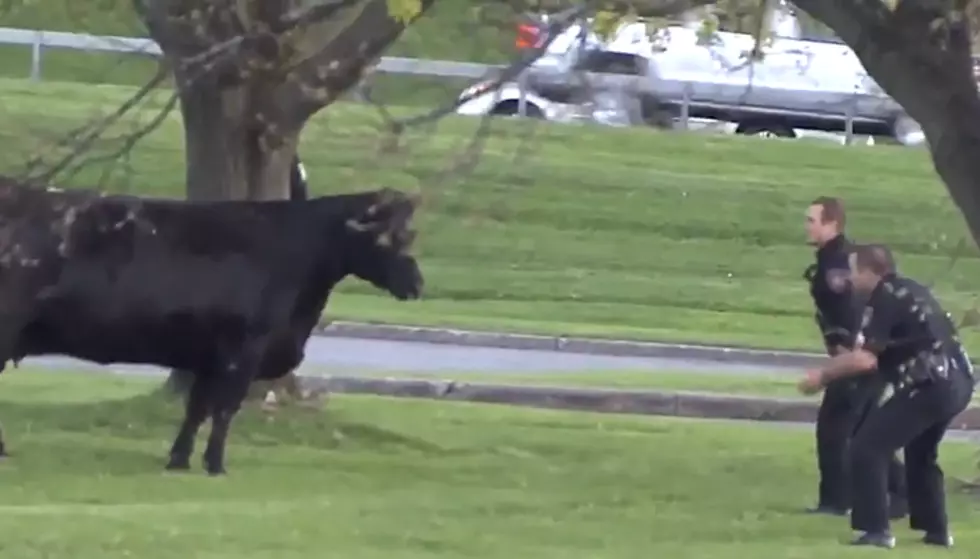 ON THE LOOSE: Cows Cause Police Frenzy in Central NY [VIDEO]
Credit: Newschannel 9
Imagine your sitting on your couch watching TV and out of the corner of your eye you see a huge black thing walking down the street. You look out your window to find that it is a cow being chased by New York State Police and Sheriff deputies. That's exactly what happened in Liverpool New York according to WSYR-TV.
The report states that State Police believe a farmer was getting off the New York State Thruway yesterday ( Tuesday) when at least four cows escaped from their trailer.
Troopers were assisted by deputies from the Onondaga County Sheriff's Department and they spent hours trying to wrangle the cows and keep them from running onto the Thruway. That could have been disastrous.
Enter your number to get our free mobile app
Some of the cows where walking through people's yards and one even took a dip in a pond.
No injuries were reported however the cows did cause some damage do a couple of police cars when law enforcement officers tried create a circle around the cows using their cruisers.
You can see video of the news report below.
Watching the video, I was having flashbacks to something that happened to me once back in the mid-90s. I used to commute from my hometown of Carbondale PA up here to Binghamton every day.
One sunny afternoon, I was on Route 106 right by the turn to go to Elk Mountain Ski Resort when I saw a herd of cattle walking down the street by themselves. I stopped in the middle of the road and watch them for a second when I realized there was no farmer to be found. There must have been about 8 or 10 of them, just walking down RT. 106, and it wasn't anywhere close to a cattle crossing area.
Brighten Someone's Spirits During Cornavirus in 3 Easy Steps