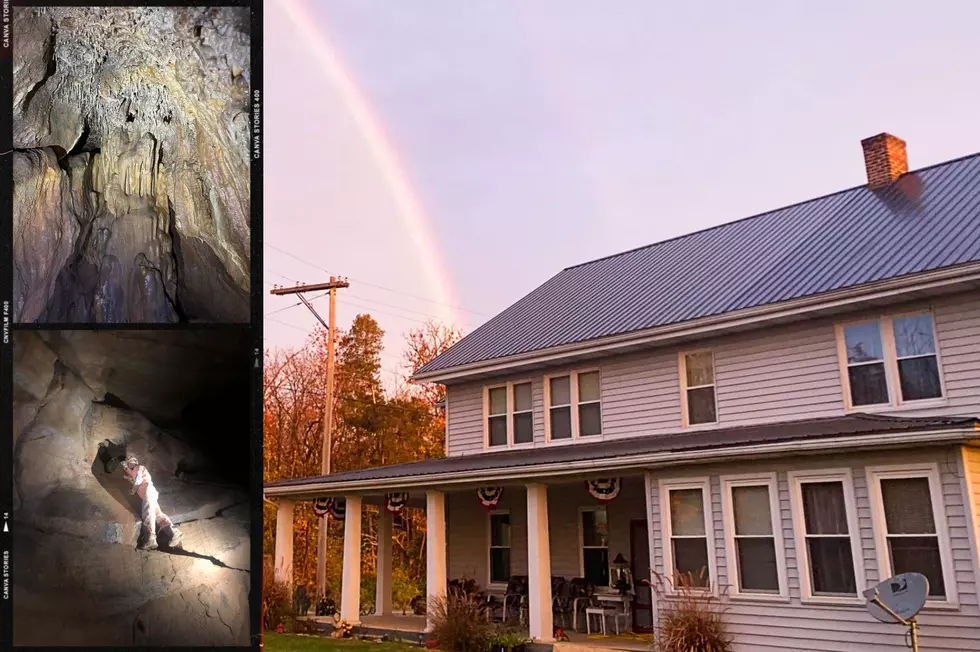 What Lies Beneath This Little House? An Explorable Secret Cave!
Black-Coffey Caverns via Facebook
Could you even imagine opening up your basement door and instead of walking down creaky stairs to a damp space with a loud furnace and questionable stuff growing on the stone walls, you were greeted instead by a ginormous secret cave?
It sounds unreal, but we assure you that it is very real for one Pennsylvania family.
If you're up for a long drive and a weekend adventure, the not so super-secret under house cave is about a four-hour drive from Central New York in Greencastle, Pennsylvania which is in Franklin County, not too far from Gettysburg (hey- make a whole weekend and go check out the battlefields after your romp in a cool cave!).
The story behind the cave with a house sitting over the top of it is an interesting one. Once called Baker Caverns, Black-Coffey Caverns was a popular place for the public to visit from 1932 to 1954 but then it was closed to everyone except the owner and researchers until now! The caves have been opened to the public once again.
In 1932, when the cave was first opened to visitors, a small structure was built over the entrance but through the years, that tiny structure grew and grew until it eventually became a whole house.
Tours of the cave take about 45 minutes, and, in that time, you'll be able to explore around 3,000 feet of passageways that have been found so far. People who have toured the cave say that they can't get over the fact that they walk through a basement door and all of a sudden, they feel like they've stepped into Fraggle Rock.

Because the house and cave are privately owned, tours are by reservation only. Black-Coffey Caverns generally offers an open house weekend once a month and admission is donation only - no set admission.
You can follow Black-Coffey Caverns and watch for their open house tours on their Facebook page and website. Keep in mind that this is someone's home, so don't just show up and expect that you'll be able to push your way into their space because you won't.
Step Inside This Unique Shoe House Rental
A popular roadside attraction. the
Haines Shoe House
is now a rental which means you can finally find out what it's really like to sleep in a piece of history and a ginormous shoe!
Look Around New York's Most Expensive Airbnb Rental
New York's most expensive Airbnb property is located in Seneca Falls. Gould Swaby Estate was built in the 1870s and is certainly jaw-droppingly beautiful but comes with a hefty rental price. A two-night stay (which is the minimum) will set you back $9,371. Tack on a third night and you will pay $13,886 to be transported back in history.
7 Ways To Protect Yourself From Becoming The Victim Of A Vacation Rental Property Scam
Before you book a vacation rental property, there are seven steps you should take in order to avoid becoming the victim of a vacation rental property scam.