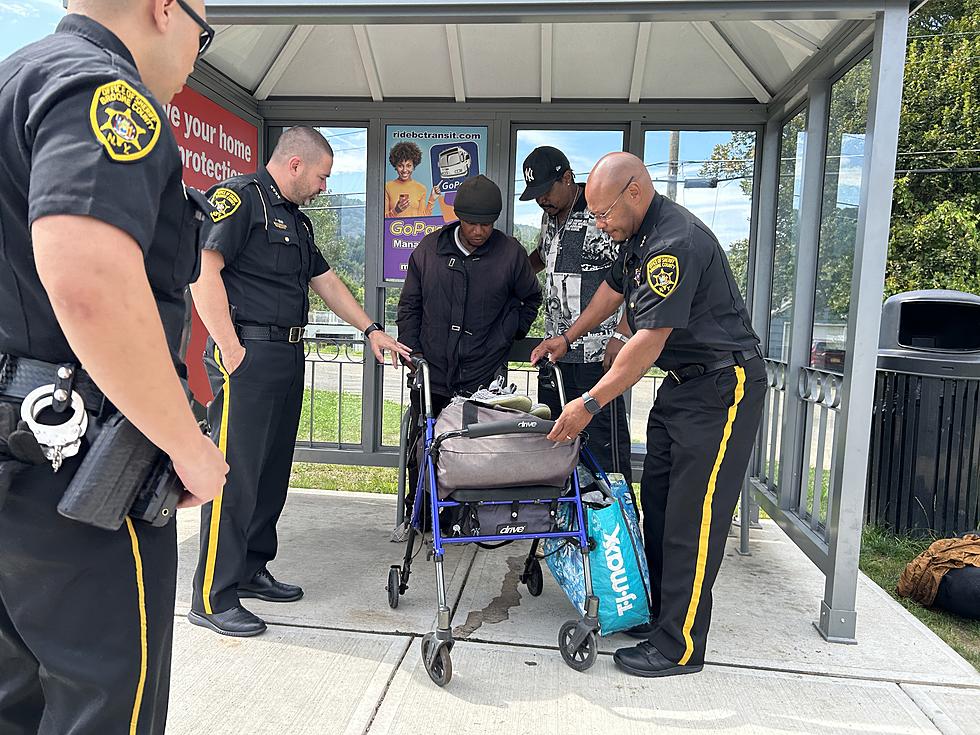 Man Living At Binghamton Bus Stop Reunited With Family
photo provided by Broome County Sheriff's office
For several months, a homeless man has called a Binghamton bus stop shelter, his home, according to the Broome County Sheriff's Office and the Broome County Department of Social Services.
The bus stop shelter is located near the intersection of Upper Front Street and Old Front Street. The Broome County Sheriff's Office noted that over the course of those months, several agencies attempted to help Earl Sutton find a permanent residence and assistance, but he refused any help offered.
During the month of August (2023), Broome County Sheriff Fred Akshar and his office team began a search for Earl's family. According to the Sheriff's Office release, Law Enforcement Division Captain Ben Harting was successful in locating an uncle who resides in Toledo, Ohio.
According to the Uncle, James Sutton, Earl had been missing for two years. James traveled from Toledo to Binghamton to reunite with Earl on September 8th and to bring him home.
My family is grateful and so happy he's been found. Earl had a bike accident that left him in a challenging mental state. He had stopped taking his medication and disappeared. For two years, no one knew where he was. We thought he might be dead. - James Sutton
I'd like to publicly thank our dedicated members of the Law Enforcement Division for all their hard work and unwavering commitment to doing everything they can to make our community a safer place for all our residents. Thank you to Broome County Department of Social Services and Earl's family for all coming together to ensure this situation had the best of all possible outcomes. - Broome County Sheriff Fred Akshar
A story with a happy ending. Something we don't see enough of. Great job by all who were involved in reuniting Earl with his family.
Binghamton 1900's Home With Dumbwaiter Elevator For Sale
Binghamton 1900's Home With Dumbwaiter Elevator For Sale
73 Court Street Binghamton
73 Court Street Binghamton
13 Incredible Places To Visit At Least Once In New York's Southern Tier
13 Incredible Places To Visit At Least Once In New York's Southern Tier