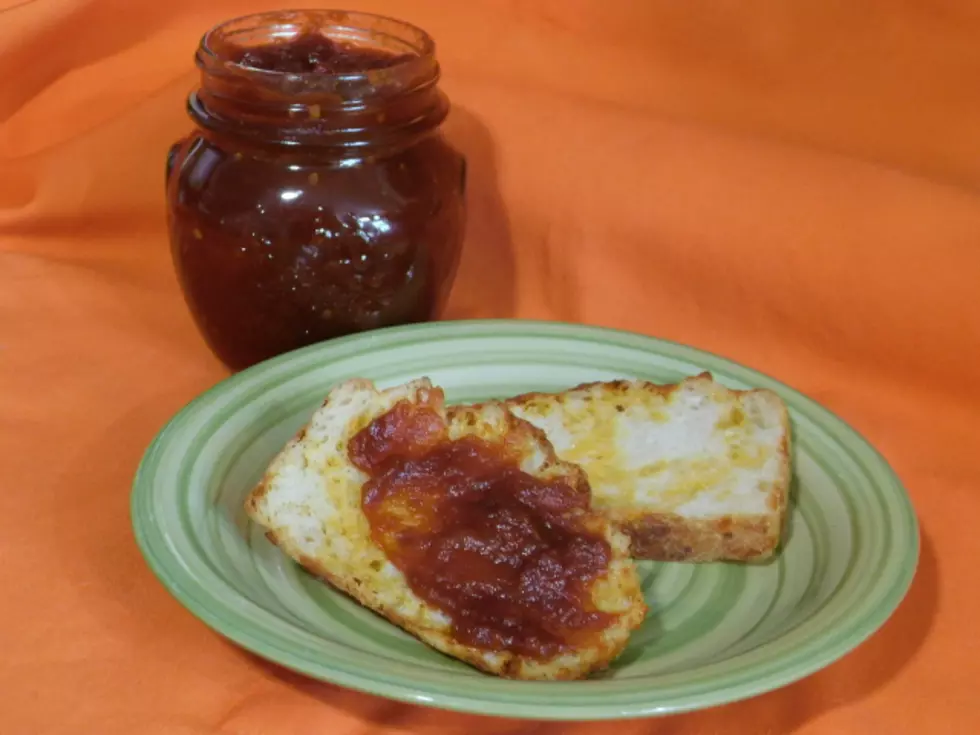 Kathy Whyte/ WNBF News
My neighbors gifted me some huge ripe tomatoes and I was thinking of unique ways to use them before they went bad.  What came to mind is something that isn't too common up here, but kind of a "thing" in parts of the south and west.
Foodie Friday takes on the tomato with a spread that's not quite a super-sweet jelly/jam and not quite a savory tomato paste or sauce.
Tomato Jam (prep. time about 2 1/2 hours. Makes ½ to 1 pt. depending on how much 'meat' to seed ratio there is in the tomatoes)
2 Lb. fresh tomato with few seeds (like Roma)
¼ C. honey (I like the deeper flavor of an autumn honey)
1/2 C. brown sugar
¼ tsp. salt
½ tsp. ground coriander
¼ tsp grated nutmeg
3 tsp. smoked paprika
Pinch red pepper flake or 1/8 tsp. cayenne pepper.
(optional liquid smoke)
Bring a large pot of water to a boil. Cut an X in the stem side of each tomato.  Drop the tomatoes in boiling water for about 2 minutes.  Remove and plunge into ice water to stop cooking.  Peel the skin from the tomatoes.  Cut into quarters and remove the seeds. (Discard the skins and seeds. Don't worry if you don't get all of the seeds out.)  Cut into chunks and place, along with the juices, into a large stock pot over medium low heat.  Stir in remaining ingredients .  Simmer over low heat, stirring frequently for about 2 hours until tomatoes are broken down (taste occasionally to adjust seasoning), the bubbles appear thick and are slow to break  and a wooden spoon drawn across the bottom of the pan leaves a clean mark. Be careful toward the end of cooking to keep a close eye on the pot to avoid scorching. If a smoother consistency is desired, blend with an immersion blender as desired. Allow to cool slightly before pouring into clean jars. It should keep up to a week or two in the refrigerator.
Serve with toast points, cheese bread, as a topping for meatloaf or with a baked brie. The jam can also be used as a kind of tomato paste to lightly dress pasta or add a deeper flavor to pizza or spaghetti sauce.
Let me know some of the ways you use this unusual spread.  kathy@wnbf.com
Binghamton Area Diners Guy Fieri Should Visit On 'Triple D'
CHECK IT OUT: Here Are the 77 Most '70s Things About 1977