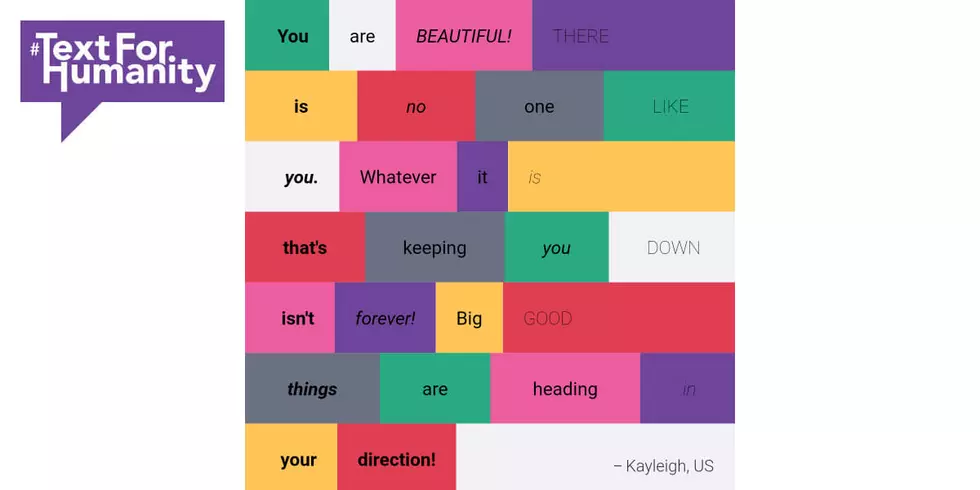 "Text for Humanity" Sends Uplifting and Positive Texts to Strangers
Traci Taylor
I was talking to a family member a few days ago about some tough life things when I blurted out that I wished that someone I didn't know, someone who didn't know my story, would give me a positivity boost.
Enter your number to get our free mobile app
It's not that words of affirmation from my family aren't appreciated or that my friends aren't amazing at lifting up my spirits when I'm down, but sometimes it's nice to hear kind and uplighting words from total strangers who don't know everything our story.
Think about it. When you go someplace and a stranger stops you to tell you they like the top you're wearing or that your perfume smells good or that you're doing a great job with your kids, it feels so good and your mood instantly changes, right?
Positivity sent by strangers through text is the idea behind Text for Humanity. Text for Humanity is a collaboration between cloud communications company Sinch and Mental Health America. The single goal is to bring some light to strangers through uplifting words sent via text using the Text for Humanity service.
I joined Text for Humanity, sending a positive message to a stranger and was unexpectedly excited to get a text of my own just a few minutes later:
All around the world, people are more connected than ever through their phones, but the flip side is that we are more lonely than we've ever been. Millennials are struggling with feelings of loneliness the most with three in ten Millenials saying they feel exceptionally lonely. According to YouGov, "Millennials are also more likely than older generations to report that they have no acquaintances...no friends...no close friends...and no best friends."
You've said you want to make a difference and help your fellow man, but don't have a lot of time or know where to start. Why not start here with Text for Humanity? The process of signing up takes three minutes tops and then just a minute or two each day to send out a positive text to a stranger to let them know they're not alone in this word.