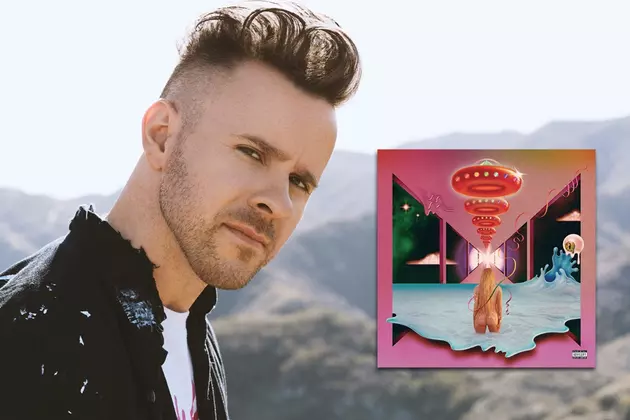 'Rainbow' Producer Ricky Reed Gets Honest About Working With Kesha: Interview
Courtesy of Ricky Read / RCA Records
Whether you know him by name or not, you've definitely heard Ricky Reed's signature sonic stamp all over the radio.
His latest collaborative work, however, may be some of his most poignant and important yet. The producer-songwriter teamed up with Kesha on her long awaited third studio album, Rainbow, helping the emancipated pop star bring her Technicolor country-tinged dreams to life across a collection of inspirational bops, bangers and ballads.
With production credits on album standouts like "Learn to Let Go" and "Hymn" (which he also co-wrote), the musician is also a rising solo artist in his own right. And much like Kesha's cathartic exploration on Rainbow, Reed knows a thing or two about vunerability and spiritual journeys: His single, "Joan of Arc," is a powerful, emotive funk-pop ode to being a martyr for love.
Below, Reed—whose production credits also include "Bastards," "Finding You," "Boots" and "Godzilla"—opens up about meeting Kesha, his favorite song off the album and what listeners should take away from Rainbow.
How did you and Kesha first link up to collaborate?
I heard from a friend that she was popping up playing bars in Nashville and doing country and blues stuff. It got me curious so we met up.
Production wise, what were some references you took into the studio with you?
We were definitely channeling some of the great vocalists of the '60s and '70s in the studio. I didn't know Kesha had such an amazing voice until we got in the studio. She sounds more like Janis Joplin or Grace Slick on this album than what we think of as "classic Kesha."
Is there a song on the album that is most dear to your heart?
"Finding You" is my favorite. It makes me think of my own love. I think that when you find the one, you move through lifetimes finding each other over and over. It really can be forever.
In your opinion, what makes this album so special and important?
It's her redemption, her rebirth. Everyone goes through that time in their life where they need to find strength in the darkness and rise above. Also, the music industry needs Kesha. Not only is she a musical force of nature, but she's become an important voice for all of us inside the industry and out.
What do you hope listeners will take away from Rainbow?
The clouds always clear. There's a rainbow after the storm.
Rainbow is out now via Kemosabe/RCA Records.
The Weirdest Album Covers Ever: