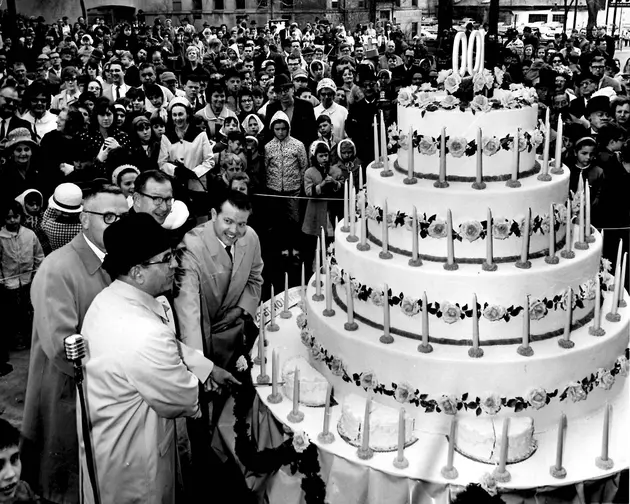 City of Binghamton Turns 150 Years Old
Binghamton Mayor Joseph Esworthy cuts a giant birthday cake at the city's 100th anniversary celebration in 1967. (Photo: Broome County Historical Society)
The City of Binghamton is about to mark its sesquicentennial. Binghamton was incorporated as a city on April 9, 1867.
Before that date, Binghamton had been a village since 1834. A historical overview posted on Binghamton's government website notes a Philadelphia man, William Bingham, acquired title to 10,000 acres along the Susquehanna River. As it turned out, Bingham never got around to visiting the place that eventually was named for him.
There was a big celebration and a huge parade in July 1967 in conjunction with the city's centennial.
In 1984, Mayor Juanita Crabb organized a 150th birthday party to observe the anniversary of Binghamton's incorporation as a village. During a visit to the White House, Crabb invited President Ronald Reagan to the city's celebration in May. He did not attend but he did visit Endicott later in the year for a campaign rally.
A special edition of WNBF Radio's Binghamton Now program will kick off Binghamton's 150th birthday party on Friday morning. City historian Gerald Smith will be joined in the studio by Mayor Richard David and former mayors Matthew Ryan and Richard Bucci to discuss some of the key events that have happened in Binghamton over the years. The live broadcast will air from 10:10 to 11:00 on News Radio 1290 WNBF and wnbf.com.
WATCH Binghamton's spectacular centennial parade from Independence Day 1967.
For breaking news and updates on developing stories, follow @BinghamtonNow on Twitter.