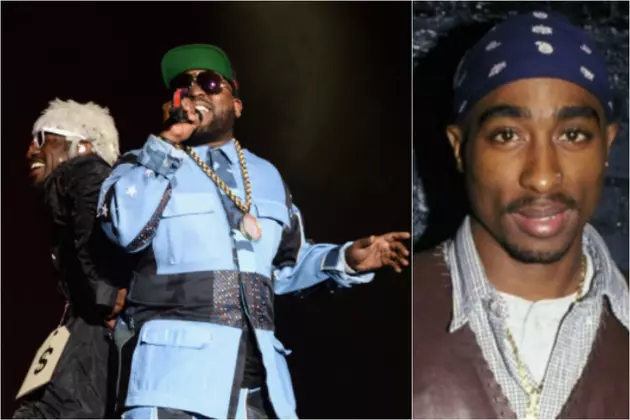 Big Boi Says OutKast and 2Pac Were Supposed to Collab
Theo Wargo/Ron Galella, Getty Images (2)
The ATLien has landed once again with Big Boi dropping his latest solo album, Boomiverse on Friday (June 16). While he's looking toward the future, during a recent interview with HipHopDx, Daddy Fat Sacks hopped in the time machine and reminisced about the time OutKast and 2Pac were supposed to collaborate before the rap icon's untimely death.
Big started by recalling initially meeting 'Pac. "The first time I met Tupac, we were opening for him in Ohio and he was pulling up to the hotel in a limousine, and he jumped through the partition of his limo and threw the car in park because the driver wouldn't stop because he wanted to holler at me and Dre," he recounted. "He almost tore up the transmission in the limo. Real life."
The Atlanta rapper continued, "It was a good feeling, and after that we spoke and were suppose to do some music together. He's one of the realest dudes I've ever met."
Big confirms news of the collab that never happened which first surfaced in 2016. Last February, a hand-written letter from 'Pac was discovered that revealed he wanted to unify the East Coast and West Coast. According to the letter, he planned to put out a compilation album called One Nation that would have featured Greg Nice, Buckshot, Smiff-N-Wessun, Scarface, E-40 and OutKast.
16 Items Once Owned By Tupac That Are Currently Up For Sale